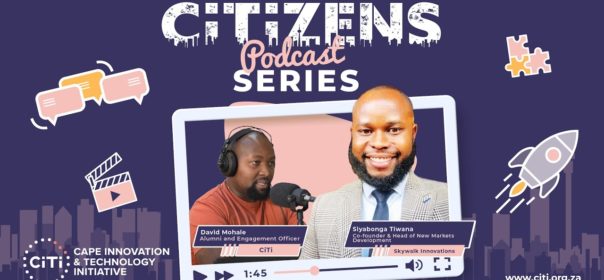 Scaling your business for the future | Resilience, and luck | Siyabonga Tiwana | Skywalk Innovations
Hello and welcome to the CiTizens Podcast 🙌🏽 Join the charismatic David Mohale as he makes monthly deep dives into tech trends, business start-up journeys and real-life examples of how to thrive in the entrepreneurial space. David will be exploring the who's, what's and how's of the tech industry, business start-up scene, funding tips and trends and career choices. You should expect to be inspired by stories of how our amazing guests made it to where they are today!
For CiTizens Podcast Episode 3, David is joined by Siyabonga Tiwana to unpack some of the traits needed to thrive in the start-up economy, while learning about funding and the importance of collaborations in business among other interesting topics. Come and listen to Siyabonga as he shares his journey in business and life with us!
📢 Make sure you are subscribed so you do not miss the next episode!
You can also listen to this episode on Spotify, Google or Anchor by following this link 👉🏽https://bit.ly/CiTizensPodcast
___________________________________________________________________________
The Cape Innovation & Technology Initiative (CiTi) is a Non Profit Company with a mission to build a future-proof, inclusive society through technology and innovation. Follow this link 👉🏽 https://www.citi.org.za/about-us/ to learn more about our work!
Time stamps:
00:00 Siya introduces himself
04:23 The beginning of his entrepreneurial journey
05:56 Scaling your business in South Africa
10:14 How COVID-19 killed distance
11:20 Building a strong business
19:35 Social media, personal struggles, resilience and luck
25:33 The power and technology and words of advice
31:51 Scaling for the future
37:40 Parting words