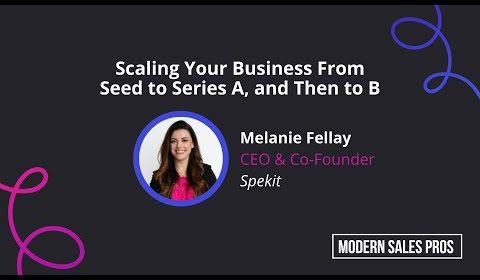 Scaling Your Business From Seed to Series A, and Then to B with Spekit CEO Melanie Fellay
Our keynote is one of the brightest female founders out there (and Forbes 30 under 30 recipient).
Join for a discussion on scaling her startup from Seed to Series B; how developing the right mindset is the most critical component to success, and how you can develop yours; and creating a vision and culture that propels yourself + your team to crush goals.
Huge thank you to Melanie Fellay (Spekit) for your incredible insights!
See all of our MSP Summit recordings from "The Mega Sko" here: https://modernsaleshq.com/the-mega-sko
Like this? Register for April's Revenue Excellence Summit: https://modernsaleshq.com/april-2022-virtual-summit