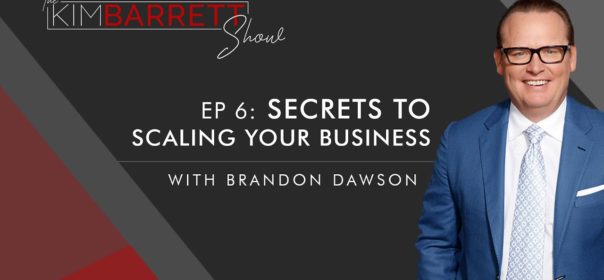 Secrets to Scaling Your Business with Brandon Dawson #6
Business owners are sometimes faced with a decision to sell their companies because of financial, tactical, or structural problems. This episode will help business owners and enthusiasts in their journey of business listing and acquiring venture capital.
Today, Brandon Dawson will share his insights on how to manage your options to grow your company. Brandon is an entrepreneur and a business coach who helps small company owners gain the resources and tactical knowledge they need. He is also the CEO and founder of the Audigy Group. He learned all his insights through experiencing failures and successes in the business world.
Check the episode highlights and listen to the podcast for a deeper understanding of venture capital and crucial business decisions.
Partnership with Cardone Ventures (2:39)
● He created a unique business model for the employees as well as the customers.
● They created a platform for small to mid-entrepreneurs in real estate to help them get resources and expand their businesses.
● It was a way to help his investors personally, professionally, and financially.
● Before running a business, you need to have the systems and processes in place.
Turning Ideas into Reality and Helping Small Businesses (05:01)
● He had to sell his company because he has no full control over it, and he wants to avoid that from happening again.
● He wants to help small businesses to have resources and money that were once only available to big companies.
● He wants to educate business owners about selling their companies. He seeks to teach them how to analyze the consequences of selling parts of their businesses.
● Customers, as well as employees, must be shareholders.
● When he finally sold his company for a significant amount of money, his founding customers and employees got their share.
● He encourages owners to create value within the system and not outsource money from external entities.
Learning Business Insights (13:06)
● Experience and failure are his teachers.
● He bought 103 businesses and changed his lifestyle to accommodate his ventures.
● He got rejected through most presentations, but he persevered despite the odds.
● He emphasized not taking a loan for your business to grow.
● Business owners need to be aware of the problem, and sometimes these are tactical or structural.
● Taking the traditional route will not always work.
Making Connections (17:01)
● He messaged business owners and coaches who have social media accounts to build connections with them.
● At first, he did not have followers. But later on, he realized he wants to share his insights and teach people how to run and grow a business.
● He wants to share that every move in the business world is a technical move.
The Reality of Running a Company (18:35)
● Incremental improvement is how you move forward, not by making radical changes.
● Prepare for failures but make improvements to avoid them.
● Listen to those who run a business and not to those who are only interested in profit.
● Building and managing a business does not come with instant gratification.
Building a Legacy (22:59)
● Legacy means changing the lives of people he chose to work with.
● He wants his legacy to be the personal, professional, and financial impact on the people who trust his work.
● Make wide and deep connections.
● Help business owners be successful while pursuing their passion.
● For more essential business insights, you can reach Brandon through his website, Twitter, Instagram, or his LinkedIn profile. Also, go ahead and listen to his podcast, The B Dawson Show.
If you need any help in growing your business, venture capital, and other topics in digital marketing, visit www.freeusb.com.au. It's free, and it has all you need in a digital marketing toolkit. Thank you for listening!