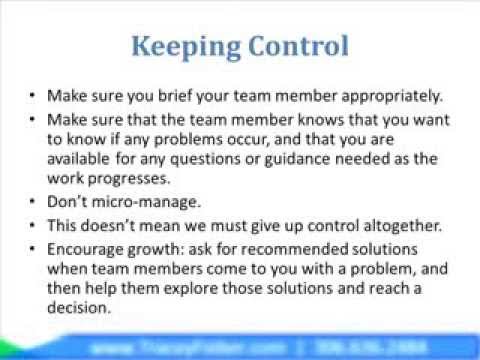 Small Business Consulting Services On Delegating
Delegating: Keeping control and the importance of full acceptance.
http://www.TraceyFieber.com
Behind the Scenes: Meet Tracey Fieber Business Solutions
For more than two decades, Tracey Fieber has customized solutions for her clients' unique business problems. She and her team transform supervisors and coworkers into strong leaders, build teams that excel at communication and cooperation, and automate processes that let her clients tend to higher-level concerns. In both the corporate world and in small businesses, Tracey and her team have propelled enterprises to their best. See what the clients say about Tracey Fieber Business Solutions.
With a background in both the corporate and entrepreneurial worlds, and a business-savvy eye, Tracey and her talented team create solutions catered to the needs of each individual client. No matter which process needs to be overhauled or streamlined—whether it's recruitment, team building, hiring, or training-Tracey and her team easily remove the lag that encumbers a business, and thoroughly nurture its strengths.
With a ground-floor-up approach, Tracey Fieber Business Solutions simplifies the entanglements of day-to-day business by implementing sustainable practices. In turn, entrepreneurs can experience what unfettered focus affords their business pursuits: limitless success.
Explore the possibilities of freedom with Tracey Fieber Business Solutions-we've got a custom approach waiting for you.
Giving the Help You Need
We are here to help you through every aspect involved in achieving corporate success, including:
• Operations Management: From start to finish, we have expert solutions for all your business needs. Find out how we create systems and streamline processes to make running your business as seamless as ever.
http://traceyfieber.com/operation-management/
• Hiring & Team Development: We know how integral a strong support staff is to the success of your company. That's why we recruit and hire top talent and train your team to excel at working together and working for you. Unearth your team's untapped potential-we'll show you how!
http://traceyfieber.com/hiring/
• Coaching, Consulting and Mentoring: With any of the above programs or a customized topic just for you, Tracey helps you kick-start the program of your choice. Choose from topics including development and implementation of marketing plans, overview and systematization of day-to-day operations, and ongoing tracking of your primary success identifiers (including lifetime value of your clients, profit margins, key indicators of your hiring needs, cost and conversion of every marketing initiative, and cost to secure an ideal client).
http://traceyfieber.com/coachconsultantmentor/
• Speaking: Invite Tracey to speak at your next business event. From small luncheons to large venues, Tracey can customize to the group and provide an interactive, informative session on relevant business topics.
http://traceyfieber.com/speaking/
Operations Management: Immediate Results That Last
As a full-service management company, Tracey Fieber Business Solutions knows how strenuous and time-consuming manual systems can be. When the process between task and accomplishment is a fluid, continuous cycle, rather than a jarring and complicated chore, you are free to focus on the growth of your company and to nurture new clients.
We listen to what your pressing everyday concerns are and implement solutions that make your work life as seamless as ever. After a thorough assessment of operations, we locate the lag and unburden those processes with the latest software and strategies.
Whether you need system modifications or newly created ones, we work to automate your operations, giving your company the edge it takes to outrun the competition.
Start increasing productivity while growing your company's reach and revenue today. Collaborate with Tracey Fieber Business Solutions so you can focus your attention where it really counts: on your clients.
Tracey Fieber Business Solutions offers Complete "Plug In" Management Services: Tracey assesses the state of your business, tracks your numbers, and implements the automation that will make your business run like a well-oiled machine.
Sign up for a 25-minute complimentary strategy session with Tracey Fieber now for a sneak peek at the visionary guidance that grows companies.
https://www.timetrade.com/app/td-5659/workflows/qqprl/schedule/welcome?view=full&fs=1&wfsid=b07a7e11-baba97f6-b07a7e16-baba97f6-00000002-58jj0ckg097v7nfddfo4ieu9tiv4sd7i
Tracey Fieber Business Solutions
510 Garrish Place
Estevan, Saskatchewan S4A 2E5
Canada
(306) 636-2484
Tracey Fieber,business mentoring,small business coaching,coaching firms,corporate executive coaching,business life coach
https://www.youtube.com/watch?v=ojMuTcxvXC8