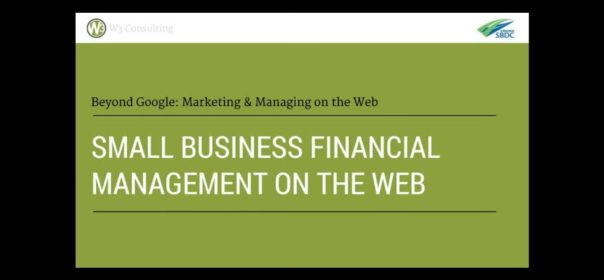 Small Business Financial Management on the Web
The key to a strong small business is strong finances, whether that's strong revenues, competitive pricing strategies and aggressive cost-containment measures. And, the components that lead to strong finances are your financial intelligence (for which, I highly recommend you read Financial Intelligence, Revised Edition – http://amzn.to/1l0Cixk) to make better business decisions and the financial tools to manage your business' money!
In this installment of Beyond Google – Marketing and Managing on the Web Webinar Series, Virginia SBDC brings Ray Sidney-Smith, President and Web & Mobile Strategist at W3 Consulting, to show you how to manage your business finances using some amazing Web-based tools!
You will learn:
*what are some practical financial data and metrics that every Small Business owner should know; and
*how to manage those finances using Web and mobile tools.
—
These Webinars are hosted by the Virginia Small Business Development Center Network – http://virginiasbdc.org – and presented by Ray Sidney-Smith, Managing Director of W3C Web Services, providing affordable Web, WordPress, email, domain and other related services for Small Business – http://web.w3cinc.com. With every transfer of domain, Web and email hosting services, get a complimentary 1-hour Web, Mobile & Social Media strategy session. Email webservices@w3cinc.com to get started!