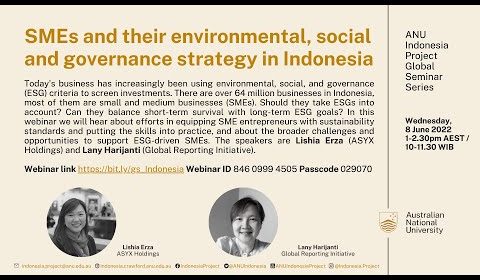 SMEs and their environmental, social and governance strategy in Indonesia
SMEs and their environmental, social and governance strategy in Indonesia
Today's business has increasingly been using environmental, social, and governance (ESG) criteria to screen investments. There are over 64 million businesses in Indonesia, most of them are small and medium businesses (SMEs). Should they take ESGs into account? Can they balance short-term survival with long-term ESG goals? In this webinar we will hear about efforts in equipping SME entrepreneurs with sustainability standards and putting the skills into practice, and about the broader challenges and opportunities to support ESG-driven SMEs.
Speakers:
1:48 – Lishia Erza (ASYX Holdings)
28:53 – Lany Harijanti (Global Reporting Initiative)
49:10 – QnA
Wednesday,
8 June 2022
1-2.30pm AEST / 10-11.30 WIB
Copyright ANU Indonesia Project 2022.