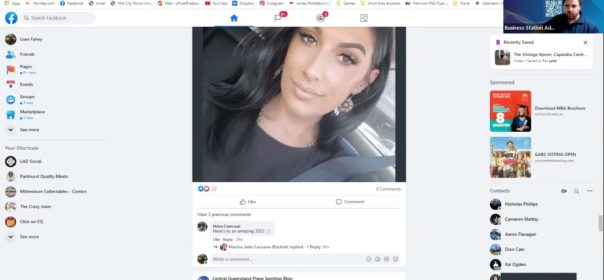 Social Media 2022 by Liam
We will cover:
Facebook's new algorithm, what to post and when.
Showcase: How I doubled a small business in a year without spending advertising dollars.
How to use Creator Studio to schedule your marketing and plan your approach.
Who your customers are, and which social media is best to use to reach them for your business.
What is coming and how to stay relevant.
This workshop is brought to you by Business Station and AusIndustry under the Digital Solutions Program.
ABOUT THE PRESENTER
Liam Fahey is a serial entrepreneur, creative director, photographer and social marketer.
He has a proven track record creating online marketing campaigns for companies across different industries, and a reputation for taking businesses from local markets to international markets with the right website design and social media strategy.
Liam believes any business can be successful by creating a marketing plan with a strong focus on branding and capability.
Liam specialises in organic content creation and has been producing content for social media marketing for over 13 years.
#socialmedia #creatorstudio #organicmarketing #facebookalgorithm
About Digital Solutions – Australian Small Business Advisory Services
Digital Solutions is one of the most generously supported digital transformation programs for small business by the Commonwealth Government. This iteration of the program has been run by Business Station in QLD, WA and NT for three years and has had a significant positive impact on the small business community.
This event will give you the chance to learn about the details of the program, what's on offer and who can access the free or highly subsidised support, training and resources! Perhaps you will find them beneficial for yourselves, your network or your clients.
To better understand what's on offer, we will encourage each attendee to register themselves to the program before the event, or otherwise by attending this workshop, you will be registered.
Important – Participating businesses must be aware that this information will be provided to the Commonwealth Department of Industry, Science, Energy and Resources for program evaluation and reporting purposes; and businesses may be approached by a representative from the Department to complete a survey on the services provided.