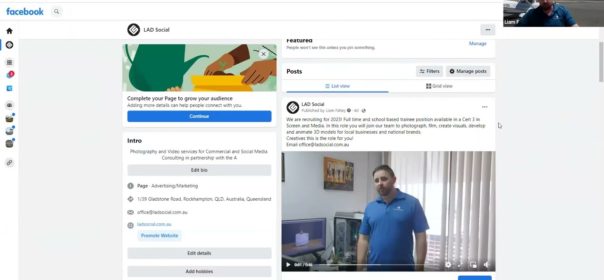 Social Media for Business by Liam
Level :Beginner
Covering:
Using Facebook for business
How to create paid advertisements that work
What content to post
Learn to use other social media platforms including TikTok
This workshop is brought to you by Business Station and AusIndustry under the Digital Solutions Program.
ABOUT PRESENTER
Liam Fahey is a serial entrepreneur, creative director, photographer and social marketer. He has a proven track record creating online marketing campaigns for companies across different industries, and a reputation for taking businesses from local markets to international markets with the right website design and social media.
Liam believes any business can be successful by creating a marketing plan with a strong focus on branding and capability. He specialises in organic content creation and has been producing content for social media marketing for over 14 years.
With a trade behind him, years building businesses and insights into nearly every industry, Liam is prepared to assist businesses to grow their knowledge.
About Digital Solutions – Australian Small Business Advisory Services
The Digital Solutions program is built to help small business owners develop their digital marketing skills, from social media to building a better website, making online sales, creating Google and Facebook Ads, and more. All with the advisory and guidance of experienced industry experts who keep you on the right track and help you learn with step-by-step support and check-ins.
In almost four years we've helped over 15,000 small businesses in QLD, WA and NT to become more confident with digital marketing. With generous support and sponsorship from the Australian Government, you can access over $1,000 value in business advisory, training and online resources for only $44.
At this event, we'll discuss how our program works and how we can help you to build a more resilient business.
Important – Participating businesses must be aware that this information will be provided to the Commonwealth Department of Industry, Science, Energy and Resources for program evaluation and reporting purposes; and businesses may be approached by a representative from the Department to complete a survey on the services provided.