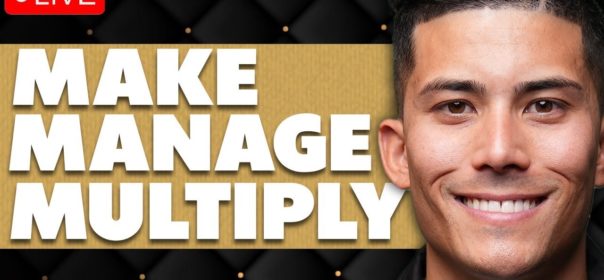 Strategies To Build A Million Dollar Business
This Wealthy Wednesday is about how to start building your million-dollar business.
Come to WealthCon: Hollywood! https://www.wealthyinvestor.com/wealthcon
For only .99 CENTS order my new book "The Wealthy Way: Don't Go Broke Trying To Get Rich" and get FREE access to my new course "Business Builder Academy" where I go over all the fundamentals of building a 7-figure business.
https://www.wealthyway.com/book
______________________________________________________
Here's how my businesses can help you:
Want to be coached by me on real estate investing? Apply at https://wealthyinvestor.com
Are you an entrepreneur who wants to build their personal brand on social media? Go to https://wealthycreator.io
You can invest in my real estate deals! Go to https://pinedacapital.com
Need tax and accounting help? Contact my CPA Firm! https://TrueBooksCPA.com/
For a free consultation with my team go to https://RyanPineda.com
______________________________________________________
My other social media channels:
Subscribe to my real estate only channel "Wealthy Investor" https://www.youtube.com/c/futureflipper1
Follow me on Social Media:
https://www.instagram.com/ryanpineda
https://www.tiktok.com/@ryanpineda
Tweets by RyanPineda
______________________________________________________
Your first task is to choose one skill or side-hustle (yes, just one) and focus on making $250,000 with it. But how do you know you're picking a worthwhile business idea to begin with?
Use the Hedgehog Concept.
The Hedgehog Concept has three circles, and the skill that fits within all three is the winner. The three circles are: passion/purpose, financial engine, and world-class. Pick something you're passionate about, that makes money, and you're world-class at. That's it!
Once you've discovered this skill/business, you're ready to figure out your first step. You can get ideas by looking at people who are already successful at doing what you want to do (especially if they're bad at it but somehow make dough anyway), or you can take one of the Wealthy Way courses to jump right in.
Now that you know what your first step is, focus on it completely.
And remember, your network is your net worth. You can build your network by joining us in Hollywood for Wealthcon. Check out Wealthcon.org to get started!