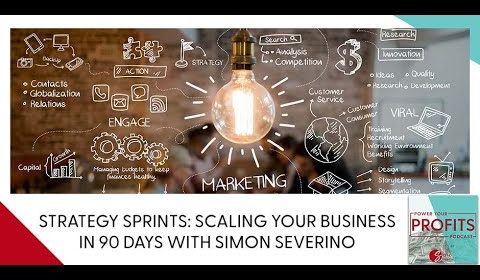 Strategy Sprints: Scaling Your Business In 90 Days With Simon Severino
If you want to scale your business quickly, you need to identify your bottleneck ASAP. You need to create daily, weekly, and monthly habits just for that one bottleneck until it is solved. Start working on your highest income-producing activities to scale. Be an agile company by setting up modules that you can plug and play into your projects. This is how you scale the number of clients you have.
Join Susie Carder as she talks to the founder of Strategy Sprints, Simon Severino about scaling your business with a game plan. Discover how the Strategy Sprints program works and how you can take control of your business. Also, learn more about Simon's wealth strategy and why you should know how to grow money from money.
[2 lines that are keyword rich.]
🔎 RESOURCES 👇
10 Point Business Assessment ► http://bit.ly/10PointBizAssessment-YT
Path to Profits ► http://bit.ly/PathToProfits-YT
Build, Scale & Sale ► http://bit.ly/BuildScaleSale-YT
Watch This ► [Link to playlist]
Upcoming Events ► https://susiecarder.com/events-and-webinars/
Join Our Community Here ► https://www.facebook.com/groups/poweryourprofits
📖 CHAPTERS 📖
[IF NEEDED]
🤔 ABOUT THIS VIDEO 👇
[2 short paragraphs that are keyword rich]
🔔 SUBSCRIBE TO SUSIE CARDER ON YOUTUBE 👇
https://www.youtube.com/c/SusieCarder?sub_confirmation=1
🗣️ TALK TO ME ON SOCIAL MEDIA 👇
Instagram ► https://www.instagram.com/susiecarder/
Facebook ► https://www.facebook.com/SusieCarder
LinkedIn ► https://www.linkedin.com/in/susiecarder/​
Twitter ► https://www.twitter.com/susiecarder
📗 MY BOOK "POWER YOUR PROFITS" 👇
🤔 ABOUT SUSIE CARDER 😃
I am not your average business coach. I have helped thousands of businesses achieve exponential growth, create radical business strategies and blast from ordinary to explosive!
I BELIEVE BUSINESS SHOULD BE FUN, NOT PAINFUL!
I am passionate about business owners living a life that is fulfilled! Achieving holistic success is a priority for me and my clients. My commitment is that all of my clients are paid the value they bring to their business and are the first to be paid not the last.
Website ► https://susiecarder.com/
📚 RECOMMENDED PROGRAMS 👇
If you found this video valuable, give it a like.
If you know someone who needs to see it, share it.
Leave a comment below with your thoughts.
Add it to a playlist if you want to watch it later.
#SusieCarder #SusieSnacks #MakeItRainSusieCarder