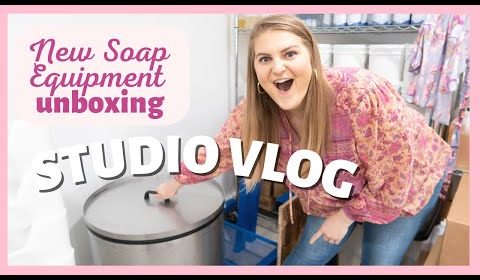 STUDIO VLOG// Unboxing New Soap Equipment // At Home Product Photography for Small Business Owners
Hi friends! In today's vlog I'm unboxing my new soap equipment and I cannot wait to show you all the new things I bought for the studio. I tried putting some things together but I wasn't planning on doing that today so I did have many tools with me to finish them so we will do that another day. I hope you love spending the day with me!
Chillpreneur Book (might be one of my top 5 business books especially for female business owners!)- https://amzn.to/3IN2SdW
Some of the below links may be affiliate links that I collect a small commission on if purchased.
Links:
Pouring Funnel- https://amzn.to/3HE4SUp
Metal Wick bars (I've found these to be the best when double wicking!)- https://amzn.to/3sDwrJ3
Grey scale for making products (I have 2 of these and they are my absolute favorite)- https://amzn.to/3IEfGTG
Pink Shipping Scale- https://amzn.to/3tlSMdo
Shipping Label Printer- https://amzn.to/3tsxKde
Shipping Labels- https://amzn.to/3Kdk0tz
Filming Equipment:
Camera: https://amzn.to/3iNz0TP
Lights: https://amzn.to/3oW1Chc
Tripod: https://amzn.to/3DqmNMy
SD Card: https://amzn.to/3v2p6lV
Here are some of my other favorite apps and platforms for my small business:
Flodesk (email marketing platform)- get 50% off using my code here! https://flodesk.com/c/CAITLINBLUE
Inventora (my inventory system)- https://inventora.co/?via=caitlin
Canva (designing my labels, social media, etc.)- You can get a 30 day free trial via the link here: https://partner.canva.com/c/3197800/647168/10068
Epidemic Sound (where I get my music for Youtube)- https://www.epidemicsound.com/referral/zbgkya
If you'd like to purchase any of my products you can browse my handmade goods at http://www.fiorellasoapery.com.
Where you can connect with me:
Fiorella Soapery
Instagram- https://www.instagram.com/fiorellasoa…
Facebook- https://www.facebook.com/fiorellasoap…
Online Store- http://fiorellasoapery.com