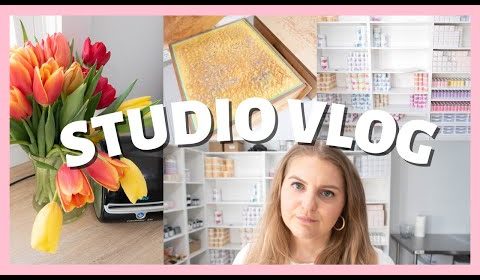 STUDIO VLOG // When Things Don't Go According To Plan // Day In The Life of a Small Business Owner
Hi Friends! This vlog is a bit different from others in that things just didn't go my way today. Sometimes that happens and when you own and operate your own small business it can get really tough sometimes. I hope I can give you some tips on how I handle my days when things go wrong and if you have any tips to share with me please leave a comment below. I'm sure you've been in my shoes at some point in your small business life.
Here are some of my other favorite apps and platforms for my small business:
Flodesk (email marketing platform)- get 50% off using my code here! https://flodesk.com/c/CAITLINBLUE
Inventora (my inventory system)- https://inventora.co/?via=caitlin
Canva (designing my labels, social media, etc.)- You can get a 30 day free trial via the link here: https://partner.canva.com/c/3197800/647168/10068
Epidemic Sound (where I get my music for Youtube)- https://www.epidemicsound.com/referral/zbgkya
Filming Equipment:
Camera: https://amzn.to/3iNz0TP
Lights: https://amzn.to/3oW1Chc
Tripod: https://amzn.to/3DqmNMy
SD Card: https://amzn.to/3v2p6lV
If you'd like to purchase any of my products you can browse my handmade goods at http://www.fiorellasoapery.com.
Where you can connect with me:
Fiorella Soapery
Instagram- https://www.instagram.com/fiorellasoa…
Facebook- https://www.facebook.com/fiorellasoap…
Online Store- http://fiorellasoapery.com