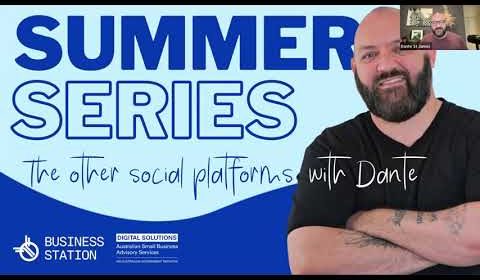 Summer Series: The Other Social Platforms by Dante
Level: Beginner
You probably have a Facebook page and an Instagram profile. You might even have a LinkedIn profile. A few may have played around a little on TikTok.
But what about the other major and emerging social platforms?
With over 436 million users, Twitter is a powerhouse of content, news and sharing of information.
Pinterest is even larger with over 446 million users pinning, viewing and sharing their favourite things.
Both Mastodon and Hive have just surpassed 1 million users each in the wake of all the drama at Twitter.
Even Reddit has 430 million active users; Quora has 300 million.
Yet, so many businesses have either ignored them or never heard of them.
In this 1-hour session for small businesses who have only really explored Facebook and Instagram in any depth, you will learn:
1. The size and audience types on each of these secondary platforms
2. The business opportunity on each of them
3. How to approach participating on each platform
4. The pros and cons of each platform
This workshop is brought to you by Business Station and AusIndustry under the Digital Solutions Program.
ABOUT PRESENTER
Dante St James is one of Australia's most accredited and recognised digital skills trainers, having started coding his own games on a Commodore 64 in 1985, to building websites from 1996 and having worked in media, marketing and technology since then. Having seen the rise of the web, web 2.0, social media and now the beginnings of the metaverse, Dante has maintained a place at the forefront of technology for nearly four decades. Now based in the Northern Territory, Dante has been recognised as a finalist for three years running in the NT Digital Excellence Awards, has been selected as one of five accredited trainers for Meta (Facebook) Australia, holds training contracts for Google's Digital Springboard program and working with the Australian Government's Digital Solutions and Entrepreneurship Facilitators programs. Dante has accumulated 108 certifications in various technologies and business skills, which he sees as vital for the operation of his training and marketing agency, Clickstarter, his national advisory footprint and StartUp Territory, a pre-accelerator program Dante formed for new businesses.
#twitter #mastodon #hive
About Digital Solutions – Australian Small Business Advisory Services
The Digital Solutions program is built to help small business owners develop their digital marketing skills, from social media to building a better website, making online sales, creating Google and Facebook Ads, and more. All with the advisory and guidance of experienced industry experts who keep you on the right track and help you learn with step-by-step support and check-ins.
In almost four years we've helped over 15,000 small businesses in QLD, WA and NT to become more confident with digital marketing. With generous support and sponsorship from the Australian Government, you can access over $1,000 value in business advisory, training and online resources for only $44.
At this event, we'll discuss how our program works and how we can help you to build a more resilient business.
Important – Participating businesses must be aware that this information will be provided to the Commonwealth Department of Industry, Science, Energy and Resources for program evaluation and reporting purposes; and businesses may be approached by a representative from the Department to complete a survey on the services provided.