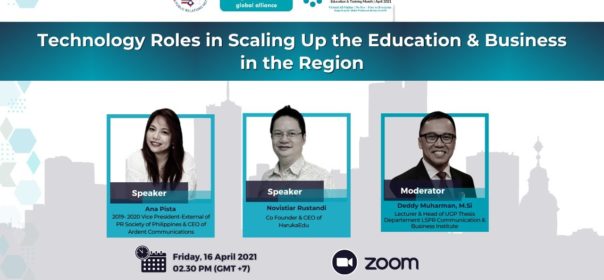 Technology Roles in Scaling Up the Business and Education in the Region | GAETM21
Technology has had a significant positive impact on public relations, especially for start-ups. Digital media has a faster turn-around time than traditional media, making it easier than ever to have the brand or business featured in the media. Editorial schedules of conventional media are scheduled months in advance, and the time it takes for a report to reach the press can be months. It just takes a few hours in using technology through digital media. Technology allows for a faster response time as well as a greater potential scope. Company and brand have the ability to reach a wider audience by sharing online news stories via social media, email, and text.
In recent years, rivalry in the public relations industry has become very fierce. The demand for public relations specialists has risen as news stories circulate faster than ever via social media sites on the internet. And the Global Alliance expected to facilitate a range of studies in several countries across seven continents in order to build a global system capacity for the public relations and communication management profession. Furthermore, the development of a global capacity framework for the profession of public relations and communication management is a global initiative that has taken place in several countries.
Moderated by Mr. Deddy Muharman, M.Si – Lecturer & Head of UGP Thesis Department LSPR Communication & Business Institute; Ms. Ana Pista – 2019- 2020 Vice President-External of PR Society of Philippines & CEO of Ardent Communications and Mr.Novistiar Rustandi – Co Founder & CEO of HarukaEdu share their views on this matters.
Listen to this fruitful discussion and join us on Global Alliance Education & Training Month this time around!
Connect with APRN on:
:: Instagram : @aseanprnetwork
:: Twitter : ASEAN_PR
:: Email : secretariat@aseanprnetwork.org