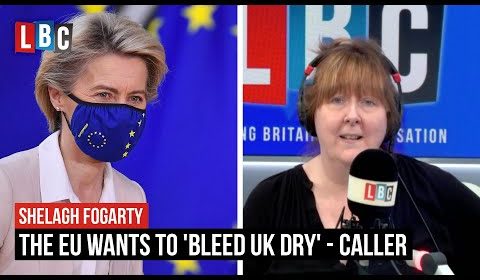 The EU wants to 'bleed UK dry,' claims caller | LBC
This caller said that the EU wants to "bleed us dry" over Brexit, after the Prime Minister returned from Brussels last night without reaching a trade agreement.
"Very large gaps remain" between the UK and EU, despite a meeting between Boris Johnson and EU chief Ursula von der Leyen aimed at breaking the Brexit trade deadlock, No 10 has said.
The pair have agreed to have further discussions over the next few days as they are unanimous a "firm decision should be taken about the future of the talks" by Sunday.
James from Merthyr Tydfil in Wales took umbrage with callers who branded Brexit an "English Conservative" move when a Wales voted in a significant majority to Leave, with only five areas voting Remain. He urged for the UK to "just leave", no matter what.
#ShelaghFogarty #Brexit #LBC
LBC is the home of live debate around news and current affairs. We let you join the conversation and hold politicians to account.
Subscribe for more: https://l-bc.co/subscribe
Watch More Here:
The Latest Coronavirus Videos: https://l-bc.co/Covid19Latest
The Latest Brexit Videos: https://l-bc.co/BrexitLatest
The Best Of James O'Brien: https://l-bc.co/JamesObrien
The Best Of Iain Dale: https://l-bc.co/IainDale
The Latest Donald Trump Videos: https://l-bc.co/DonaldTrump
Join in the conversation and listen at https://www.lbc.co.uk/
Sign up to LBC's weekly newsletter here: https://l-bc.co/signup
Like, follow and subscribe to LBC!
Website: https://lbc.co.uk
Facebook: https://fb.me/lbc
Twitter: https://Twitter.com/lbc
Instagram: https://instagram.com/lbc
This is not your ordinary talk radio stream. LBC is the leading YouTube channel for live debate around the news and current affairs. We have live interviews and debates and you can even phone in to join in the conversation.