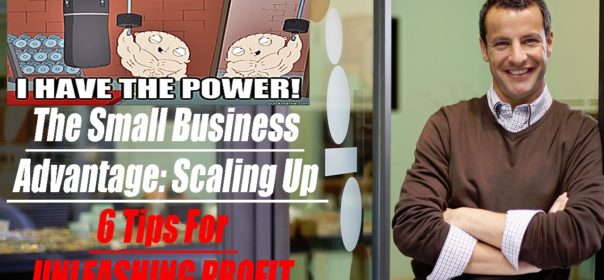 The Small Business Advantage: Scaling Up W/ 6 Tips For UNLEASHING PROFIT
Turning what can be seen as a competitive disadvantage into an advantage.
1.Testimonials and using this format:
Leveraging and releveraging testimonials in the way of imgur albums, online compilations (on a website), posting them on youtube/IG/FB (also tagging them in it accessing their immediate network) and then making them accessible to all traffic, i.e brick mortar store using a chalk board with the URL written encouraging people to visit those places.
Building rapport by telling your story, caring for your customers (Strat of preeminance=LIFE) and then asking for Yelp/Google reviews.
2.Referral incentives via percentage on sale, giving referral cards collecting points or hookups in the way of future product (or exclusive product for them).
3.Understanding the concept of preeminence and a thousand true fans
If you're not falling in love with your customers, you're doing it wrong. Become their MOST trusted advisor, a fiduciary, their one and only XYZ provider
Remember a thousand TRUE fans is ALL you need to make a living (unless you're on dat "I need me a Bugatti time"
4.Servicing the HELL out of your EXISTING customers
Offer small gifts/samples when people visit your store (law of reciprocity)
Offer a free ebook
Create infographics and post them on your social media
ADD VALUE TO THEIR LIVES
Conduct surveys
Ask them how you could BETTER serve them
Ask them if there is something you sell that they buy elsewhere and what it would take for them to buy with you
Be up front and show your DESIRE for their business
Use the 80/20 curve (Perry Marshall) and provide AS MUCH as your best customers are willing to bear (lump similar value items together or even just make a SUGGESTION (those that loved XYZ also love YXZ) and even just show higher value items (soft sell ftl, but better than nothing) )
5.Join a trade exchange
Or partner with local businesses in the following manner:
Using their mailing list and attaching your ads
Working on splits
Paying them
Having them pay you
Whatever works best in creating LIFETIME partnerships (no hit it and quit it attitude here), if you're not sure about them do NOT become a partner
Ask yourself WHO could improve your PROCESS as in your either your product, price or customer experience. Quantify this and go to said businesses showing them if they do XYZ for you, you will share profit 123 with them (above and beyond what you're making so win win, mutual benefit)
6.Social media and forums
JAB JAB JAB RIGHT HOOK:
Give value, give value, give value ask for something back
Instead of doing "busy work," use spare time to interact with people through your social media, build relationships, start a blog, post on forums, get advice from forums, make youtube videos, ALWAYS ask yourself "how can I better serve my customer AND grow my business?"
Books discussed:
David And Goliath M Gladwell
80/20 Sales And Marketing
7 Levers Of Business
Sam Walton's made In America
50th Law
Jab Jab Jab Right Hook
Links:
http://8020curve.com/
http://imgur.com/a/hAj6P 7 Levers+STAR


My past two videos

Business Trade Exchange
http://canva.com/
Create infographics for your business