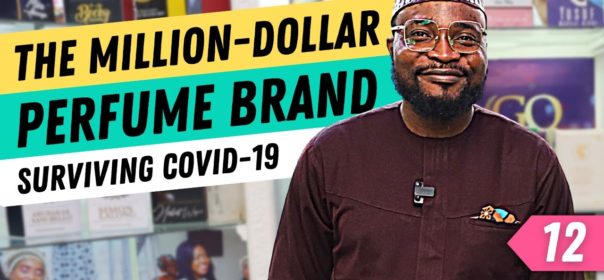 The Survival Story Of The Million-Dollar Perfume Brand That Got Hit By Covid | Adewale Jana
With a keen nose for fragrances, Adewale Jana has built one of the most successful perfume businesses in Nigeria. As the founder and CEO of Sapphire Scents (a million-dollar perfume brand), he's without a doubt a source of motivation for African entrepreneurs.
In this interview, Wale shares how he was able to jump through the hurdles of funding, distribution, and marketing in the perfume industry, especially after the big Covid hit.
He also shares some advice to entrepreneurs who are struggling to scale and develop their businesses.
Enjoy the video, and be sure to share!
This interview was sponsored by Traction Apps. Sign up with Traction Apps today – https://web.tractionapps.co/#/signup?name=triciabizyt
CHAPTERS
00:00 – Intro
01:51 – How Wale's childhood influenced his business
03:15 – Starting entrepreneurship as an undergraduate
04:40 – Venturing into the perfumes business
07:46 – Leaving a job to go from N30k to N1million in 3 months
09:37 – The importance of social media marketing for small businesses
10:16 – From importing to owning his own perfume brand
13:50 – Funding mistakes small businesses should avoid
16:12 – The secret behind Sapphire Scents' unique fragrances
18:31 – Making customized fragrances for high profile clients
23:34 – Expanding to other cities and starting overseas production
31:12 – Navigating defamation of character by investors
39:12 – How to deal with challenges in your business
41:33 – Scaling Sapphire Scents to Over a million dollars in 4 years
42:40 – New strategies for the post-Covid phase
44:22 – Changing a distribution strategy to minimize costs
46:12 – Handling theft in business
47:01 – Advice for entrepreneurs
ABOUT THE SHOW🎬
"HOW THEY DID IT" a show that tells the authentic story of African businesses whilst drawing lessons for upcoming entrepreneurs.
The Challenge:
There is a growing demand to tell our stories. Most of the stories told online are of foreign businesses, and where you find an African story, it is most likely a surface-level interview that aims mostly to motivate and not necessarily teach.
This is the unique value of this show:
In addition to it being designed to educate, motivate, and inspire, which is truthfully a key factor in boosting self-confidence, we will be emphasizing key lessons from the video interviews.
#howtheydiditwithtriciabiz
ABOUT TRICIABIZ ⭐
Tricia Olufemi-Olumide (a.k.a. TriciaBiz) is commonly described as The Business Fixer. She is an entrepreneur, author, and business growth expert with over 12 years of experience working across a wide portfolio of clients in Nigeria, offering services ranging from business growth consulting, marketing penetration strategies, and other core marketing across several sectors.
She is the founder of Business Lab Academy Africa, a fast-growing digital learning platform for African entrepreneurs, and has successfully trained over 200,000 entrepreneurs in 10 cities across Africa.
TriciaBiz is a multiple-award winner and has been invited to speak at various seminars, workshops, and conferences globally.
ABOUT THE GUEST 👤
Adewale Aladejana (a.k.a. Wale Jana) is the founder and CEO of Sapphire Scents; the Nigerian luxury perfumery that has taken over the industry since it first launched in 2015.
Wale started this company with only 30,000 naira, and has since grown it into a multi-millionaire enterprise that caters to the needs of high profile individuals all over Africa.
Jana sources raw materials for his perfumes both locally and internationally; searching for the perfect notes and scents to deliver to his customers at a wide range of prices and sizes.
STAY CONNECTED 👋🏽
Instagram: https://www.instagram.com/triciabiz/
Facebook: https://www.facebook.com/triciabiz