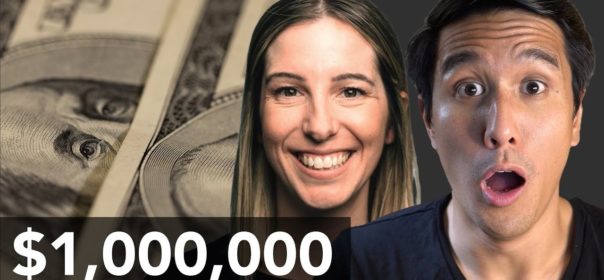 The Truth About Scaling a Creator Business Through YouTube (With Heather Torres of Think Media)
"We want to help people, on all levels, understand how to get their message out, build a personal brand online using these free platforms. How do you make that into a legitimate business? We want to help creators figure all those pieces out."
— Heather Torres
With close to 2 million subscribers across two YouTube channels, Think Media is one of the internet's top authorities on the art and business of video creation.
And in this week's episode of The Videocraft Show Presented By Video Husky, we have the pleasure of speaking to one of the chief masterminds behind their entire operation.
Heather Torres is chief operating officer of Think Media. She's involved in business development as well as content creation for the company's YouTube channel and podcast.
By delivering high-value insights through their content, courses, community, and coaching services, Heather and her team have built Think Media into a 7-figure media company (that's still growing!).
In this episode, Jon Santiago speaks to Heather about her early beginnings with the company, including how she met Think Media founder Sean Cannell. They also talk about:
▶️ How she manages to juggle her responsibilities as a mom, wife, creator, and entrepreneur.
▶️ The systems and workflows that Think Media has in place to create content and grow their business.
▶️ Deciding what to share and what not to share online.
▶️ How to determine who to follow and whose advice you should listen to.
▶️ Advice she has for creators who feel like they've reached a plateau in the growth of their channels.
And much more…
RELEVANT LINKS
📌 Think Media's Website: https://www.thinkmedia.video/
📌 Think Media on YouTube: https://www.youtube.com/user/THiNKmediaTV/featured
📌 Think Media Podcast: https://www.youtube.com/c/ThinkMediaPodcast/featured
📌 Heather on Instagram: https://www.instagram.com/mrsheathertorres/
📌 Heather's YouTube Channel: https://www.youtube.com/c/HeatherTorresTV
📌 Monday.com: https://monday.com/
📌 How I went From 0 to 100,000 Subscribers (with Justin Khoe): https://youtu.be/vGk4CI_kdW4
MUSIC TRACK: "Hip-Hop" from Motion Array (https://motionarray.com/royalty-free-music/hip-hop-58063)
DOWNLOAD A FREE COPY OF OUR FREE SCRIPT TEMPLATE
📬 Get it by joining our email list ➡️ http://bit.ly/vc-script-template
CHAPTERS
00:00 Intro
02:08 Start of conversation with Heather Torres
02:40 How Heather Torres and Sean Cannell met and started working with Think Media
07:13 How she's able to manage her time between Think Media and homeschooling her kids
11:29 Mentors and influencers who helped her
13:22 How to determine who to follow and whose advice you should listen to
18:42 Being a female entrepreneur in a male-dominated space
22:07 How Heather deals with negative comments as a YouTuber
24:47 Deciding what to share and what not to share online
30:14 How Think Media is scaling up and streamlining collaboration
35:11 Adjusting workflows along the way to be more efficient
37:35 Current obstacles in the way of Think Media's growth
39:23 The content creation process of Think Media (podcast and channel)
45:52 Focus on one main platform and have a secondary platform
47:46 Repurposing content through making short-form videos
50:16 What to do when your YouTube channel stops growing
55:41 New levels, new devils!
LISTEN TO THE PODCAST ON:
🎧 Spotify: http://bit.ly/spotify-videocraft
🎧 Apple Podcasts: http://bit.ly/apple-videocraft
🎧 Google Podcasts: http://bit.ly/google-videocraft
🎧 Castbox: http://bit.ly/castbox-videocraft
🎧 Stitcher: http://bit.ly/stitcher-videocraft
🎧 Amazon Music: http://bit.ly/amazon-videocraft
🎧 Pocketcasts: http://bit.ly/pocketcasts-videocraft
🎧 Overcast: http://bit.ly/overcast-videocraft
🎧 iHeartRadio: http://bit.ly/iheart-videocraft
🎧 Radio.com: http://bit.ly/radiodotcom-videocraft
✳️
The Videocraft Show is presented by Video Husky.
If you're a content creator, we know how time-consuming and tedious it is to edit your own videos.
That's why Video Husky provides unlimited editing at a flat monthly rate. Just send us your footage plus instructions of what you want and you'll get the first draft of your video in 1-2 business days.
Guaranteed.
Learn more at https://bit.ly/yt-content-creators.
✳️
PRODUCTION CREDITS
Producer: Nikki Vicente (https://bit.ly/nikkivicente)
Editor: Ingrid Sarayba (https://instagram.com/ingsaraybaa)
Graphics: Paolo Lopez
#podcast #contentcreators #thinkmedia