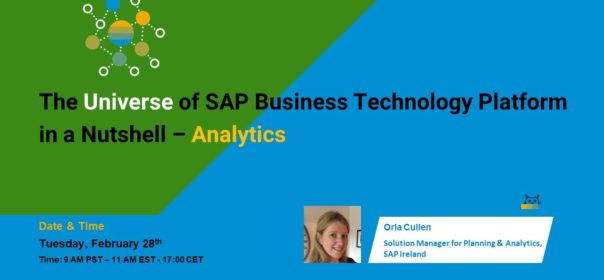 The Universe of SAP Business Technology Platform in a Nutshell – Analytics
Attend this session to get an overview of the key capabilities of SAP Analytics Cloud and identify scenarios ideally suited for SAP Analytics Cloud within in your business. You will also get insights into the strategic directions and areas of investment related to Analytics in SAP BTP. Finally, hear what's on the horizon in terms of planned new features and functionality.
See following link to see all episodes of this series: https://url.sap/4ojdn1
We look forward to seeing you!!
~~~~~~~~~~~~~~~~~~~~~~~~~~~~~~~~~~~~~~~~~~~~~~~~~~~~~~~~~
To learn more about SAP User Groups go here: https://www.sap.com/about/customer-involvement/user-groups.html
Visit the SAP Knowledge Transfer for User Groups page for the all topics, expert content and more: https://webinars.sap.com/sap-user-groups-k4u/en/home
Check the schedule of all SAP User Group upcoming sessions and events: https://webinars.sap.com/sap-user-groups-k4u/en/upcoming ~~~~~~~~~~~~~~~~~~~~~~~~~~~~~~~~~~~~~~~~~~~~~~~~~~~~~~~~~