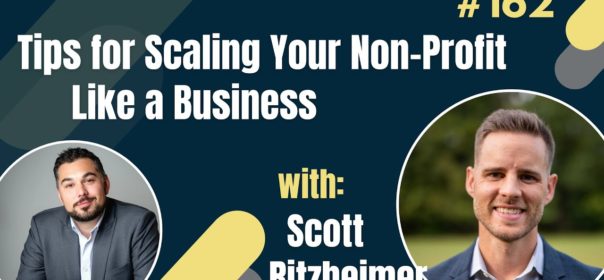 Tips for Scaling Your Non-Profit Like a Business w/Scott Ritzheimer Ep.162
Strategy & Leadership Podcast 162:
Scott Ritzheimer is the CEO of Scale Architects, where he helps scale and sustain organizational success using the Predictable Success framework. Recently, Scott sold his ownership in StartCHURCH that he helped grow to 60 employees as CEO.
On this episode of the Strategy & Leadership Podcast, Scott joins us to discuss valuable lessons for scaling, key distinctions between non-profits & for-profits, the benefits of different leadership styles, & more. #ScaleUp #NonProfit #LeadershipStyles
Learn more about Scale Architects & download their free assessments: https://www.scalearchitects.com/
► Subscribe to our channel for weekly videos on strategy & leadership: https://www.youtube.com/channel/UCOHLNRrpk3rGUdg7qUQjiog/?sub_confirmation=1
0:00 Intro
1:52 About Scott, his work & background
3:53 What drives him in the business world
6:00 The most valuable lesson learned scaling businesses
9:49 Key distinctions between non-profits & for-profits
15:55 Leadership styles that turn up in the non-profit & for-profit worlds
21:03 Helping organizations recognize how they can grow/scale
25:06 Where to get ahold of Scott & learn more
// Connect with us:
► Contact us: https://www.smestrategy.net/contact
► Connect with Anthony on LinkedIn: https://www.linkedin.com/in/anthonyctaylor604/
// About SME STRATEGY CONSULTING:
SME Strategy is a management consulting firm that specializes in helping organizations develop and implement their strategic plans. We work with teams to facilitate conversations about strategic direction and business strategy so that our clients can focus their energy on what will move them forward faster.
► Work with us: Are you looking for someone to facilitate your strategic planning process? https://www.smestrategy.net/strategic-alignment-program
► Check out our Strategy & Leadership Podcast: https://open.spotify.com/show/4yND4JKofh64gcvyvcLMqW
► Check out our online course on how to successfully lead your next strategic planning process: https://courses.smestrategy.net/courses/Aligned-strategy-course