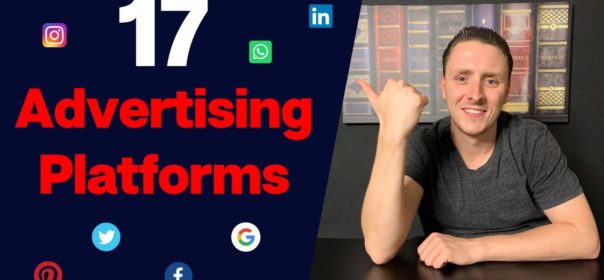 Top 17 Social Media Platforms To Advertise Your Business
Grow your social media channels and sell more products by promoting your business on these top 17 social media platforms:
#1 – Facebook
Create a profile page, add members into groups and utilize paid advertising to target your customers.
#2 – Instagram
Create unique content that reflects you, promote via posts, stories, IGTV and by going live.
#3 – LinkedIn
LinkedIn is the #1 b2b social network in the world! Create a profile that stands out with your experience, awards, and current job title.
#4 – Pinterest
Grow your brand on Pinterest with custom boards and unique pinned content. Use Tailwind Tribes to collaborate with influencers and creators to drive traffic to your brand.
#5 – Twitter
Create a beautiful profile, use hashtags in every post and connect with influencers to promote your brand.
#6 – YouTube
Use this social media platform to rank videos in YouTube search, as well as Google search.
#7 – Messenger
Use ManyChat to create a chatbot that will automate replies and send messages directly to your subscribers.
#8 – WhatsApp
Use broadcast lists, groups and even connect to their API with Twilio to connect with others.
#9 – Telegram
Create channels, groups and connect with millions of users around the world with Telegram.
#10 – SMS (Text)
Utilize tools like Twilio to send direct text messages to your users when they sign up for your services.
#11 – Reddit
Use Reddit to gain information on your industry and create an "AMA (ask me anything)" to promote your success and answer people's questions.
#12 – Quora
Ask questions about your industry or answer anyone's questions on Quora.
#13 – Medium.com
Write unique blogs and post them on Medium.com to explode your business by organic search and daily readers.
#14 – Google My Business
Display your business and promote your products through Google Search results.
#15 – Email Marketing
Create segmented lists and drip campaigns to optimize your performance.
#16 – Podcast
Promote your podcast on iTunes, Spotify, Soundcloud, and Google Play Music
#17 – Your Own Website
Bring all you videos, blogs, podcasts and infographics together on your own website.
▬▬▬▬▬▬▬▬▬▬▬▬▬▬▬▬▬▬▬▬▬▬▬▬▬▬▬
👋 CONNECT ON SOCIAL MEDIA 👋
Messenger:► https://m.me/haydenthoward
Facebook:► https://facebook.com/haydenthoward
Instagram:► https://instagram.com/haydenthoward
LinkedIn:► https://www.linkedin.com/in/haydenthoward
▬▬▬▬▬▬▬▬▬▬▬▬▬▬▬▬▬▬▬▬▬▬▬▬▬▬▬
🎬 About This Channel:
My name is Hayden Howard and I am a business owner dedicated to helping people make more money and grow their companies. I create videos based around topics like business, money, marketing and sales. Make sure to subscribe to learn how to create a profitable online business and escape the 9-5 nightmare of working for someone else. Leave a comment below or connect with me on social media and let me know the next video you want me to create!
Disclaimer: The information and resources we provide are for educational and informational purposes only.
▬▬▬▬▬▬▬▬▬▬▬▬▬▬▬▬▬▬▬▬▬▬▬▬▬▬▬
Social media, social media marketing, marketing, social media marketing tips, marketing tips, social media tips, media, small business, facebook, instagram, linkedin, pinterest, twitter, youtube, messenger, whatsapp, telegram, sms, reddit, quora, medium.com, google my business, email marketing, podcasts, your own website, advertising, social media platforms, how to drive traffic, how to use social media, how to promote your business online, haydenthoward, hayden howard, whiteboard club
#haydenthoward
#whiteboardclub
#socialmedia