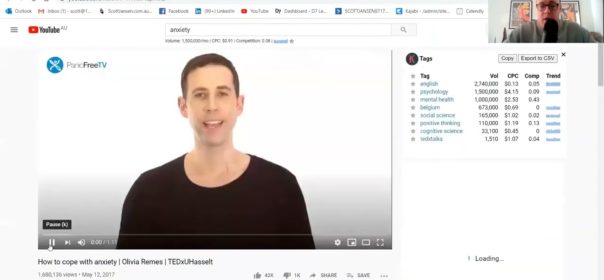 Turn Social Media Into NEW Hypnosis Clients (DO This Daily)
Our next Advanced Conversational Hypnosis Training – Feb 2023: https://scottjansen.com.au/new-program/
7 FIGURE TRAINING COMPANY: How To Launch & Sell-Out Your Hypnosis, NLP & Coaching Certifications, Trainings, Events, Seminars, Masterclasses, Online Programs & Build A 7 Figure Training Company (From Scratch!): https://scottjansen.com.au/7-figure-training-company-program/
LEARN ADVANCED CONVERSATIONAL HYPNOSIS ONLINE: If you Can Watch A Movie – You Can learn Advanced Conversational Hypnosis In Just Hours – Over 200 Hours Of Training (even if you are a beginner)
Our students have successfully used our THIS ONE ACH method for: Anxiety, Addictions, Stop Smoking, Weight loss, Grief, Anger, Fear, Phobias, sexual dysfunction, driving anxiety, abundance blocks, narcissistic relationships, pain (…And dozens more) – https://scottjansen.com.au/learn-conversational-hypnosis-online/
100K COACHING PROGRAM: This Program Has Created Over 450 6-Figure & Multiple 6-Figure Hypnotherapists From Scratch
WITHOUT – funnels, paid ads, free sessions, business events, mindset, speaking on stage, free FB groups or free challenges: https://scottjansen.com.au/sales-page/
MY CONVERSATIONAL HYPNOSIS PROGRAMS: https://www.udemy.com/user/scottjansen/
Grow your hypnosis business online playlist: https://www.youtube.com/watch?v=TOc4G0AjmE0&list=PLzXmFvsUg8s1UUrhUmqSpGaaBo-nom4PB
Learn conversational hypnosis & Advanced conversational hypnosis playlists: https://www.youtube.com/watch?v=z7XAm_yfCIQ&list=PLzXmFvsUg8s14Ew-oOWgFvHS_7tbKCT8E
100K Coaching Program Success Stories: https://www.youtube.com/watch?v=hgPqnnq986Q&list=PLzXmFvsUg8s0aQRCsSNKXe_eXnh5LhJQo
ACH Success Stories: https://www.youtube.com/watch?v=NzX4WviCjCI&list=PLzXmFvsUg8s11zCXpOltOZeeH5EMmcnZi
Whether you're trying to grow your hypnosis business online, or want to grow your hypnosis business from scratch – this channel is for you.
Through our 100s of free hypnosis training videos, you will learn everything you need to know about script-free conversational hypnosis and advanced conversational hypnosis.
If it's more hypnosis clients you are after or need the best tips in the industry for starting and growing your hypnotherapy business, we have 100s of these specific videos for you too – from finding your niche, marketing your hypnosis business, selling your hypnosis packages, scaling your hypnosis business or even pricing your hypnosis sessions correctly.
If you can watch a video, you can master conversational hypnosis and grow your hypnosis business without all the fluff and confusion.
With 30,000+ conversational hypnosis students trained and 1000s of students smashing 6 fig and multiple 6 fig hypnosis businesses, you will find the best resources and videos in the industry.
———————————————————————
DISCLAIMER: Any information or advice I give is purely based on my own experience and research. There is no guarantee as there are many variables that will impact your success. **Testimonials shown are real experiences from paying clients of Scottjansen.com.au. The sales figures stated above are my student's sales figures. Their results are not typical, and I am not implying that you will duplicate them. Everything stated should be taken as opinion. This is not get rich quick.
_
To Your Success!
Scott Jansen and the team at ScottJansen.com.au
#conversationalhypnosis #growyourhypnosisbusiness #learnconversationalhypnosis #Gethypnosisclients #Learnhypnosisforfree