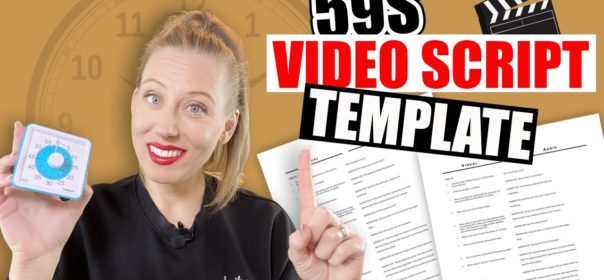 Video Sales Letter 4️⃣ High Ticket Sales💵
📹 Video Sales Letter 💵 High Ticket Sales 📈Lead Generation
Have you been wondering how to get more high-ticket sales for your business?
In this video, you'll discover a lead generation strategy via content marketing using (vsl) video sales letter to help you take your business to the next level.
Steady lead generation for your new business can be difficult. But thanks to the power of video marketing it doesn't have to be.
This video script template can help you get a steady flow of high-quality leads whether you run an online business or an in-person business.
And the best part is that this doesn't have to be a stuffy corporate video or even a professionally produced video to help you get sales via inbound marketing.
All you need is a video script template, a phone and to speak from the heart.
Then leverage your business promo video using social media marketing strategies, content marketing strategies, or the latest digital marketing strategies 2022 to help get the word out.
GRAB YOUR COPY OF THE 59s VIDEO SCRIPT TEMPLATE HERE: https://molly-ann-luna.ck.page/60ef4b6374
You've heard that video is a powerful tool to help you generate more leads for your business, but you're hesitant to press record because you don't love being on camera, have any fancy equipment, and have no clue what even to say.
I'm going to break down a simple 5-step brand-boosting video script template designed to help you confidently convert cold prospects into red-hot buyers using the phone in your hand.
Video marketing as a lead generation strategy is the best lead-gen strategy for small business owners with a tight marketing budget. It's the exact brand authority-building strategy that my best students inside The Legacy Leaders Academy use to get high-paying clients consistently. If you need to generate more high-quality leads for your business, then stick around.
Writing and producing short brand-boosting video scripts has been the secret key that's unlocked my business success, and I hope that it'll do the same for you.
To help you write the best 59s promotional video for your business, I'm creating a downloadable template that you can use to wrist your video script. There's a link in the show notes.
This lead-generating strategy works whether you're running an online or in-person business.
I'm going to walk you through the 5-point process by showing you a real-life example of Jovan, a professional door-to-door salesman who helps homeowners own their power by going solar.
WATCH NEXT//
📍How To Write A Business Plan Step-By-Step: https://youtu.be/cAVG4hT35Uk
📍Sales Training What To Say When Your Client Says I Need To Think About It: https://youtu.be/3x51SgMnYkI
📍Lead Generation: How To Generate More Leads To Your Business On Automatic: https://youtu.be/A83024MZV0g
📍Discovery Call Script To Land A $50,000 Client: https://youtu.be/NTU5xiBU7wc
//Connect
Facebook.com/mollyannluna
Instagram @mollyannluna
Email: mollyann@mollyannluna.com
Get Emails From Molly Weekly: https://molly-ann-luna.ck.page
//Listen to The Online Business Clinic Podcast:
🎧 Apple:https://podcasts.apple.com/us/podcast/online-business-clinic/id1475730822?l
🎧 Google Play: https://onlinebusinessclinic.libsyn.com/gpm
🎧 Spotify: https://onlinebusinessclinic.libsyn.com/spotify
//TOOLS & RESOURCES
○ Lighting: https://amzn.to/2UhcppB
○ Microphone: https://amzn.to/3xLEEdI
○ Podcast Mircophone: https://amzn.to/3xK9ovD
○ Graphic Design Tool (Canva): https://bit.ly/2TGwuVX
○ Email provider (ConvertKit): https://bit.ly/3xpsJCK
○ Hiring A Virtual Assistant (Freeeup): https://bit.ly/3qP6fZs
○ Digital Course Hosting Platform (Thinkific)
○ Get Your Copy of Step Up: https://amzn.to/3sgKuT7
//LINKS
https://www.mollyannluna.com
https://www.mollyannluna.com/application
https://www.mollyannluna.com/stepup
https://www.becomealegacyleader.com
https://www.pivotintoonlineprofit.com
NOTE: This description may contain affiliate links that allow you to find the items mentioned in this video and support the channel at no cost to you. While this channel may earn minimal sums when the viewer uses the links, the viewer is in NO WAY obligated to use these links. Thank you for your support!
========================
Molly Ann Luna is a Life & Business Success Strategist who will help you amplify your income and impact by showing you how to start a coaching business, create multiple streams of income through group coaching, digital course creation, and self-publishing by using intelligent online marketing strategies.
Want help starting, scaling, or skyrocketing your online coaching business? Submit your application to work with Molly Ann Luna inside of her immersive group coaching program, The Income Amplifier. https://www.mollyannluna.com/application
Helping you build an automated online coaching business.
#BusinessCoach #MollyAnnLuna #VideoSalesLetter #ContentMarketing #VideoMarketing #highticketssales #inboundmarketing