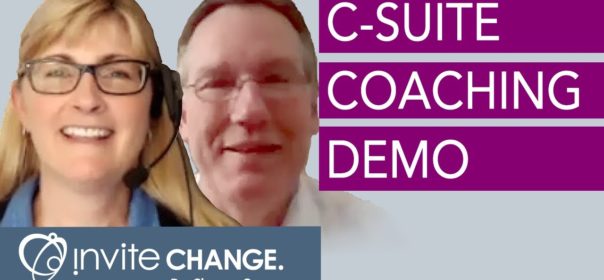 Watch Executive Coaching
Watch this recorded executive coaching session where MCC coach Kelly Holm demonstrates coaching COO Steve Thorson (also a coach) from inviteCHANGE https://www.inviteCHANGE.com.
Kelly shows how C-Suite leaders benefit from coaching. Not having a consultant tell Steve what to do, but having a business coach ask questions to guide him down a path to discover the answers himself.
Kelly is an executive coach and an ICF Master Certified Coach.
If you enjoy this YouTube video, please comment below.
Can your business benefit from coaching? The best business coaches are certified by the ICF (International Coach Federation.) Be sure to look for the letters ACC, PCC or MCC after your coach's name.
inviteCHANGE is a leading coaching organization and coaching school dedicated to Generative Wholeness. All inviteCHANGE coaches are ICF certified at the ACC, PCC or MCC level.
If you are interested in exploring being coached or advancing your coaching career, visit http://www.inviteCHANGE.com
#Coaching #ExecutiveCoaching