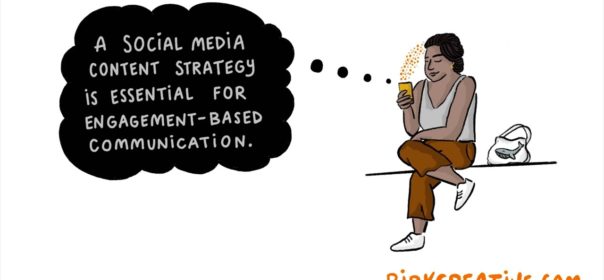 What is a social media content strategy? (Digital marketing essentials)
After years of isolation, social media is an essential source of communication, not just for personal connection but professional services too. For many businesses though, built on interpersonal relationships and an old-school brick n mortar model, the wild wild west of social media can be a daunting feat.
For Birk Creative CEO JinJa Birkenbeuel, she frames the hesitation as a missed opportunity for revenue and retention and is committed to help business owners strategize their social success. "Small business owners often have difficulty being the face of their brand. They're so busy in the business that they don't look up. But the most successful businesses are led by confident people who want to share what they know and can find the path to a personal conversation with their customers." Your social media strategy is a blueprint for your business's social channels, answering what, when, why and how your content lives.
At Birk Creative, a social media strategy goes far deeper than hashtags and likes, it's a detailed multi-channel plan that ensures every social-facing appearance of your business remains on brand and aligned with your brand DNA. It's a blend of ideas, purpose and pathways to grow your business, expand your reach and achieve your goals. It can be a challenging road though, but Birk Creative strives to guide small businesses through scaling their social media, offering:
• Social Media/Ad strategy
• Social Media Marketing
• Custom Content Creation
• Visual Identity
• Branding
• Social Media Planning
• Digital Campaigns
• Digital Mindset Training
• Copywriting
Our passion for Small Business Social Strategy is so anchored in our values that Google tapped Birk Creative to be a collaborating architect of its Accelerate with Google Platform in 2015. Due to the positive impact of the program on small historically underserved businesses across the US, the program was acquired in 2017 by Grow With Google to become the Grow With Google Digital Coaches program. Through this expansive partnership, we helped build a national network of industry leaders to provide digital skills training and coaching to help Black and Latino-owned small businesses reach new customers, thrive online, and grow.
As the internet's go-to service destination and owner of YouTube and key performance analytics, the more Google savvy a business is, the stronger its social media reach will be. Through the GDC initiative, JinJa acts as the Illinois digital coach offering digital skills workshops, hands-on coaching on various topics like social media strategy, and more, creating space for like-minded entrepreneurs and local businesses to glean, gather and grow.
—
About Birk Creative
Birk Creative works with businesses as a plug-and-play brand strategy team or as a complement to existing creative and marketing capabilities. We deliver wraparound services across all advertising and marketing activities: visual identity, branding, brand messaging, custom content creation, podcast/video/radio production, social media marketing, employee thought leadership training and development, and digital advertising.
Our in-house team and remote network include brand strategists, copywriters, social media marketers, podcast producers, book and publication publishers, graphic designers and web developers, illustrators, media buyers and a 10-person remote team.
We are a Grow with Google Certified Partner and are Google Ads Certified.
Stay in touch with us. We'd love to hear from you.
Sign up for our mailing list at https://view.flodesk.com/pages/60662f4dc9533f4419aaa4ba
Subscribe to our podcast The Honest Field Guide https://podcasts.apple.com/us/podcast/the-honest-field-guide/id1406059045