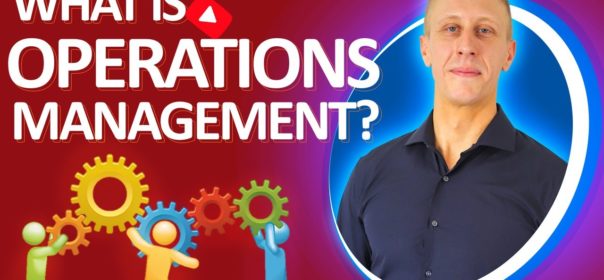 What is Operations Management? | Rowtons Training by Laurence Gartside
Free Downloadable PDF – 10 steps to Propel your Career in Operations Management
🌐Courses Online in Operations Management (and more): Rowtons Training
https://rowtonstraining.com/courses/
🚀Follow me on LinkedIn: Laurence Gartside
https://www.linkedin.com/in/laurence-gartside/
What is Operations Management?
Operations Management is the design, operation, and improvement of the systems that create and deliver the firm's primary products and services in the most efficient and effective way.
It's the discipline of managing an organization's operations (which are the core, daily activities that create value; typically, in order to earn a profit). Operations is one of the primary functions of a business, alongside the likes of marketing or finance.
What are examples of Business Operations? They can range from a stone mine digging up rocks, an airline transporting people, a restaurant cooking and serving customers or a digital marketing agency doing its graphic. The operations are the core activities of those businesses – the systems that transform inputs into higher value outputs.
What are Business Operations: https://youtu.be/IDq417SGbUc
Operations Management is a broad and deep discipline. It is built on a huge body of established wisdom but is a highly practical field of business – working at the sharp end – getting things done!
Operations Management can be broken down into several core areas:
• Coordinating Resources – Getting what is needed where, and when
• Forecasting Demand – Making informed predictions on future demand for your products/ services
• Capacity Planning – Building capabilities to be able to meeting a certain demand in a certain time frame
• Demand Management – Actively managing the demand placed upon your operations, typically to smooth them over time
• Scheduling – Allocating which jobs get done in which order
• Resource Requirements Planning – Which resources should be allocated to each job (human, capital, inventory, energy, etc)
• Systems Design – Designing the overall systems of processes that form your operations
• Operations Strategy – setting the guiding principles for approach and decision making
• Performance Management – defining objectives, effectively measuring performance and improving
💡Hungry to learn more? To level up your operations management business fundamentals, check out my library of online video training courses on operations management, supply chain, inventory management, logistics, lean manufacturing, performance improvement, and more:
🌐Online Video Training Courses in Operations Management: Rowtons Training https://rowtonstraining.com/courses/
🚀Follow All of my Social Media pages: Laurence Gartside
https://www.linkedin.com/in/laurence-gartside/
https://www.instagram.com/laurencegartside/
https://www.facebook.com/profile.php?id=100070472675061
My Personal Website: Laurence Gartside
#RowtonsTraining #RowtonsTrainingbyLaurenceGartside #LaurenceGartsideConsultancy #supplychain #businessoperations #suppliermanagement
#operationmanagement #businessoperations #laurencegartside