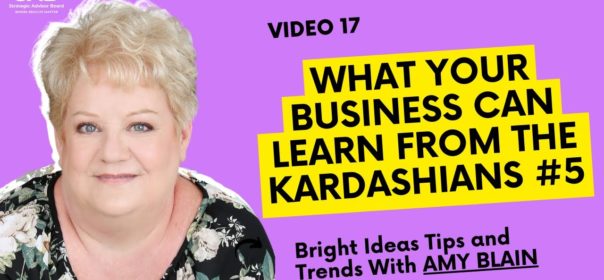 What Your Business Can Learn From The Kardashians #5 | Strategic Advisor Board Video17
Visit our site for the assistance you need: https://brightideasmarketing.co/win-a-hyper-local-ad-campaign-worth-597. Need assistance growing and scaling your business? Apply here:
https://www.strategicadvisorboard.com
Todays Video Topic: What Your Business Can Learn From The Kardashians #5 | Strategic Advisor Board
(Released Daily) Bright Ideas Marketing brings you tips on trending technologies for digital marketing along with the main essentials of marketing brought to you by the Strategic Advisor Board. Amy Blain is the founder and owner of Bright Ideas Marketing offering digital marketing services for small and medium-sized businesses. Co-author of the Amazon bestseller "Business Leadership and Community", Amy has over 35 years of experience in traditional advertising, marketing, and sales and over 15 years of digital advertising experience. Amy offers insight on how to use free and inexpensive marketing tools to grow your business.
Please Like, Comment and Subscribe for more valuable videos daily. We hope you
found this content helpful.
Please reach out to us directly at the below links!
#strategicadvisorboard #digitalmarketing #businesstips #marketingstrategies #AmyBlain
Connect with us today:
Visit our site for the assistance you need: https://brightideasmarketing.co/win-a-hyper-local-ad-campaign-worth-597
Need assistance growing and scaling your business? Apply here:
https://www.strategicadvisorboard.com