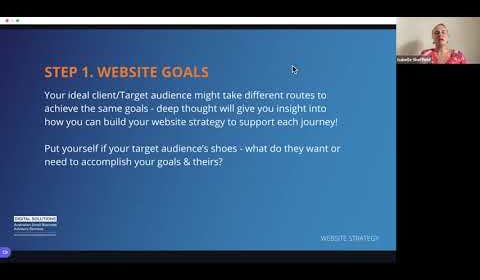 What's a website strategy & why you need one! by Isabelle
There are many elements that go into planning a website. This workshop is designed to highlight these areas so you can put together your own website strategy and use it when creating a new website or reviewing your existing site.
We will cover
1. Identifying the main purpose and goal/s of your website
2. Understanding what you need the website to do for you/your business & what you need it to do for your customers
3. Mapping our your sales & enquiry process
4. Getting clear on how you will communicate your know, like & trust factor
5. Creating a clear marketing message
6. Understanding your customers journey on your website and the importance of a clear navigation menu
7. What integrations will you be using on your website (social media platforms, email marketing platforms etc)
8. Creating a site map of your page navigation
9. Putting together your content (copy, images, video etc)
10. How you can set up automations to improve your process's & systems
11. Choosing a platform to meet your needs (identifying previously)
12. DIY vs Hiring someone to help you
If you would like additional support with your website strategy prior or post this workshop you can book 3 hrs of mentoring with Isabelle for $44 through the Government subsidised program Digital Solutions program-https://businessstation.link/isabelle
This workshop is brought to you by Business Station and AusIndustry under the Digital Solutions Program.
ABOUT PRESENTER
Isabelle's background is in Digital Marketing & Coaching. Over the past 15 years she has supported with over 300 small business's across wide variety of digital marketing channels. Isabelle has worked for some of Australia's leading marketing agencies and global business leaders as well as running her own small business for the past 8 years in Coaching, Consulting & Web Design to Mind Body Soul clients world wide.
Isabelle has a passion for empowering small business owners to find confidence in who they are inside their business. and love what they do. She does this by leading clients through a simple process to help them develop a deeper understanding of their business and how to express this through their online platforms and use technology to support their business growth and online success.
Digital Marketing & Coaching skills include:
• Digital Marketing Strategy
• Brand Strategy & Design
• Website Strategy & Design
• Content Mapping & Creation
• Customer Journey Mapping
• Building relationships with customers
• Exploring new business ideas
• Strengthening your area of expertise
• Building confidence as a Business Owner
• Work/Life balance & wellbeing
• Processes/Systems, Online Software & Automation
Qualifications
• Bachelor of Business in Marketing
• Life Coaching Certificate
• Digital Marketing Certificate
• Google AdWords Certificate
• Diploma of Business in Human Resources
• Certificate 4 in Small Business Management
#websitestrategy #diywebsites
About Digital Solutions – Australian Small Business Advisory Services
The Digital Solutions program is built to help small business owners develop their digital marketing skills, from social media to building a better website, making online sales, creating Google and Facebook Ads, and more. All with the advisory and guidance of experienced industry experts who keep you on the right track and help you learn with step-by-step support and check-ins.
In almost four years we've helped over 15,000 small businesses in QLD, WA and NT to become more confident with digital marketing. With generous support and sponsorship from the Australian Government, you can access over $1,000 value in business advisory, training and online resources for only $44.
At this event, we'll discuss how our program works and how we can help you to build a more resilient business.
Important – Participating businesses must be aware that this information will be provided to the Commonwealth Department of Industry, Science, Energy and Resources for program evaluation and reporting purposes; and businesses may be approached by a representative from the Department to complete a survey on the services provided.