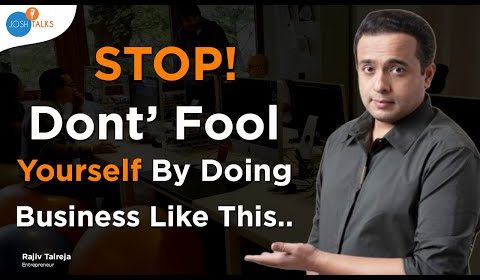 Why Businesses Fail And How To Avoid It? | @Rajiv Talreja Josh Talks
Learn, Network & Grow with the best learning app of Bharat: https://joshskills.app.link/CALwtzJtnpb
Listen to this episode, on the Josh Talks Podcast, available exclusively on Spotify:
Doing a business and growing as an entrepreneur is not an easy task. In the modern era where there are more and more avenues for doing business, failing at them is also high.
In this Josh Talk, serial entrepreneur and business coach @Rajiv Talreja shares his journey of starting his entrepreneurial journey as a young 20-year-old fresh college graduate. He had to face multiple problems and to even getting his first client was a huge struggle. But while most of us will assume that post getting his first client life was all easy, the reality is completely different. Rajiv shares how he became a serial entrepreneur and owner of a celebrity sports team – Karnatak Warriors and founder of Quantum Leap Learning Solutions. He shares some very important insights on how to scale a business and mistakes most entrepreneurs do while scaling and building their businesses. In 2022, we hear a lot of startups laying off their employees and recession picking up pace globally as companies and startups fail to raise funds or expand businesses which generate revenue. Rajiv shares some tips from his own rich experience that will help us grow as entrepreneurs and professionals in startups, avoid business failure, and marketing, and grow as business coaches. 
Rajiv Talreja's YouTube Channel: https://www.youtube.com/c/RajivTalrejaD
#JoshTalks #startups #successstory
Josh Talks passionately believes that a well-told story has the power to reshape attitudes, lives, and ultimately, the world. We are on a mission to find and showcase the best motivational stories from across India through documented videos and live events held all over the country. What started as a simple conference is now a fast-growing media platform covering the most innovative rags to riches success stories with speakers from every conceivable background, including entrepreneurship, women's rights, public policy, sports, entertainment, and social initiatives. With 7 regional languages in our ambit, our stories and speakers echo one desire: to inspire action. Our goal is to unlock the potential of passionate young Indians from rural and urban areas by inspiring them to overcome the setbacks they face in their career and helping them discover their true calling in life.
►Josh Talks Facebook: https://www.facebook.com/JoshTalksLive
►Josh Talks Instagram: https://www.instagram.com/JoshTalksLive
►Josh Talks Twitter: https://www.twitter.com/JoshTalksLive
►Josh Talks is coming to your city: https://events.joshtalks.com
—–**DISCLAIMER**—–
All of the views and work outside the pretext of the video, of the speaker, are his/ her own and Josh Talks, by any means, does not support them directly or indirectly and neither is it liable for it. Viewers are requested to use their own discretion while viewing the content and focus on the entirety of the story rather than finding inferences in its parts. Josh Talks by any means, does not further or amplify any specific ideology or propaganda.