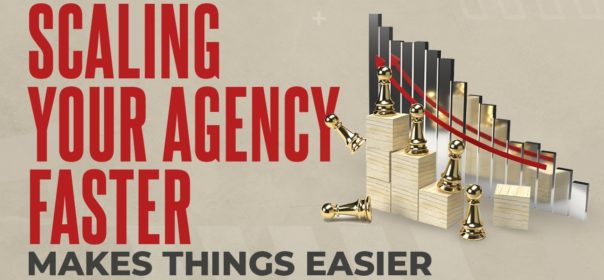 Why Scaling Your Agency Faster Makes Things Easier – Scaling Your Business
Have you reached a point where you're not sure what comes next for your agency? Are you looking for new ways to grow or afraid your agency is growing too fast? Hitting a crossroads is normal, but when you set yourself up with a solid base, you'll find it easy to choose the right path for your agency to take when scaling your business.
Today I sat down to talk with Mae Karwowski, founder, and CEO of Obviously, an influencer marketing agency. As a young social media manager, Mae quickly saw the value for brands when it comes to using influencers to promote a product. Since then, the agency has surpassed the 8-figure mark and works with some of the biggest brands across the globe. Mae's here to discuss some of the decisions she's made to get her agency to where it is now and what she looks forward to as her agency continues to grow.
A successful agency is built on a culmination of decisions. Everything from what you offer, how you price it, and the people you bring onto your team can affect the longevity and the profitability of your agency. So what can you do to help set your agency up for success?
2 Ways to Set Your Agency Up With a Solid Foundation
1- Be thoughtful about your first hires: One of the most exciting milestones for an agency is when you need to make your first hire. A strategic hire can add value to your agency and allow you to continue to grow. Think about what skill sets your agency needs to retain your current clients and expand your reach. Now is a great time to bring on individuals who are good at team building, operations, and hiring.
2- Know your worth: From the very beginning, Mae knew she wanted to be a full-service agency who provided a premium product. This meant charging a premium price. Don't be afraid to charge what you are worth. When you do, you'll find you're more likely to attract the type of clients you want to work with and you're less likely to burn out.
Key performance indicators tell you how your agency is doing and where your agency is headed. And while various industries may weigh different KPIs more important than others, Mae thinks there are two main KPIs agencies need to monitor:
2- Retention: The first few contracts are great, but if you can't keep your clients happy and keep them around, you're going to see a lot of turnover. In the beginning, return clients (and subsequent referrals) are critical to your agency's success. If you've noticed your retention rate isn't where it should be, dig deeper and find out why. Take a look at the contracts, your services, and don't be afraid to ask your clients how you can improve.
3- Revenue streams: Do you offer complementary services? Is your team prepared to upsell or cross-sell? Do your clients even know about these services? Look for opportunities to build packages for your clients and sell them as solutions. Take a close look at where your profits are coming from and where you should invest.
A lot of agency owners come to me and say, "But Jason, I don't want to grow anymore. I can barely keep up as it is. "It may seem counterintuitive, but the more you scale, the easier it becomes. Why? By establishing a regular client base and growing your team, you have more people and resources to get things done. And the bigger you become, the more you can delegate, which in turn allows you to brainstorm, create, and focus on ways to expand your agency's vision and reach.
When you figure out who your clients are, what they want, and what you're worth, the possibilities are endless. It may not be easy, but most of the time it's worth it.

=======================================================
Thanks for watching. Your comments are why I do this, so please take a second and say hello.
JASON SWENK IS AN AGENCY ADVISOR THAT GUIDES MARKETING AGENCIES THROUGH A PROVEN FRAMEWORK FOR GROWING THEIR AGENCY FASTER & EASIER.
Jason currently hosts two shows that are available for download…
The Smart Agency Master Class Podcast, dedicated to providing tactics and strategies to agency owners and decision-makers that cut through the BS, focus on exactly what works and what doesn't; and
SwenkToday video series that documents the entrepreneur journey of building another multimillion-dollar business, where he shares the latest strategies and answers the most burning questions entrepreneurs have.
ASK ME A QUESTION:
PODCAST Monday & Wednesday:
(Digital Agency Interviews)
http://smartagencymasterclass.com
Follow me here:
Website: http://jasonswenk.com
Facebook: http://www.facebook.com/jasonswenk
Twitter: https://twitter.com/jswenk
Instagram: https://www.instagram.com/jswenk
Linkedin: https://www.linkedin.com/in/jasonswenk
Music by epidemicsound.com
#business