What Should a COO Do First?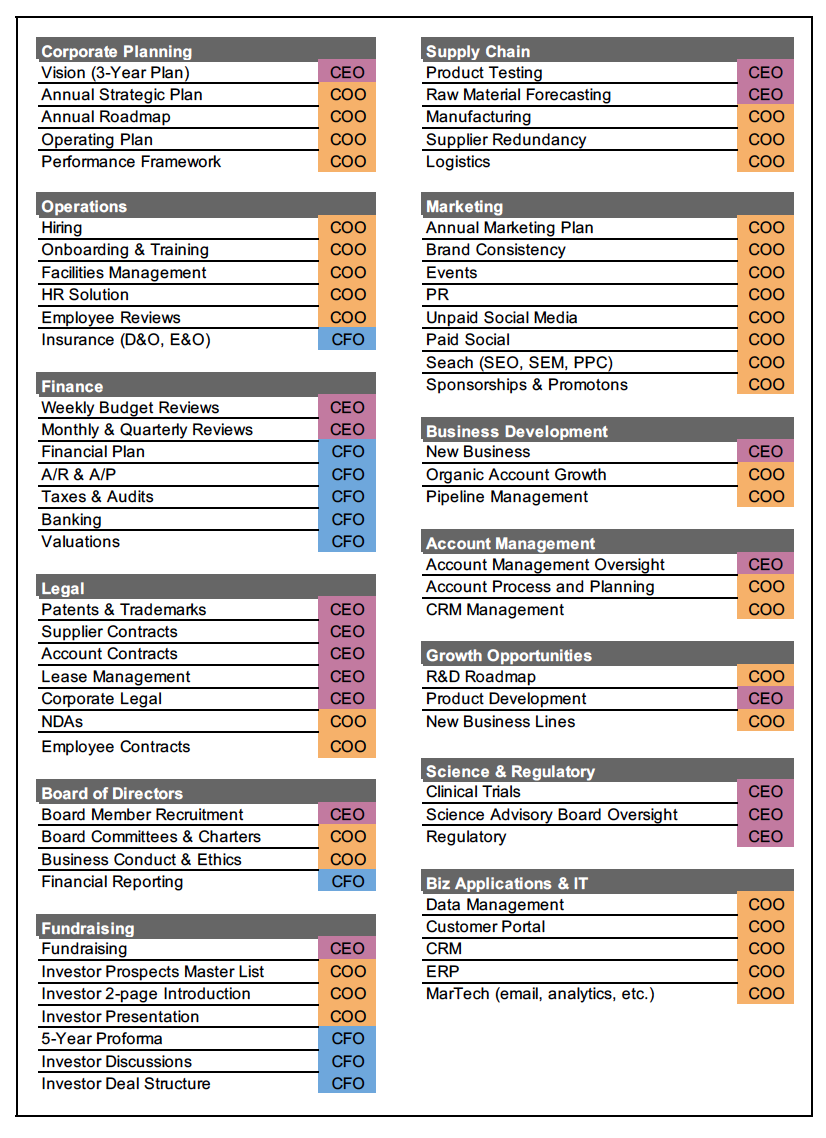 What Should a COO Do First?
When a new CEO joins your organization, the first thing he or she should do is make the proper introductions and stay in close communication. The COO's role is to execute the CEO's vision and foster a collaborative relationship. Your company's financial condition will determine your ability to hire top talent and develop new products. A COO can help you achieve these goals by guiding your organization's finances.
Identifying your company's strategic priorities
Identifying your company's strategic priorities is an essential task for a COO. Depending on your role, you may be involved in daily operational decisions or work with the CEO to address long-term challenges. Either way, you must know how to delegate effectively to increase efficiency. Separating the workload will ensure that no individual takes on too many operational responsibilities.
Strategic priorities must align with the changing environment. External factors are often out of your control, but internal factors can also significantly impact your strategy's success. One way to analyze these factors is to use a TOWS matrix (a hybrid of the SWOT and Porter's Five Forces analysis): this tool helps you identify the external and internal factors affecting the company's performance. In addition, it enables you to determine whether your company can benefit from any external changes.
A COO is often considered the heir apparent to the current CEO. As a result, this position requires strong leadership skills and a Master of Business Administration degree. The job also requires a strong understanding of company processes and organizational skills. A COO can focus on maximizing efficiency by identifying a company's strategic priorities.
Developing a plan for implementation
Developing an implementation plan is one of the most essential steps in the COO's role. Successful implementation requires the right people in the organization. This means hiring the right people with the right skills and competencies. It also means enhancing employees' existing skills through training or recruiting new employees.
The first step in the implementation process is to define the objectives and goals. Once you have these, you can flesh out the project plan and brainstorm different scenarios. This way, you can realistically evaluate the scope of the project. Moreover, you can avoid scope creep by knowing precisely what you are trying to accomplish.
COOs should be good goal-setters. They must be able to identify the best performers and best cultural supporters in the organization. They must also follow their instincts when it comes to selecting employees. If a person or team proves to be underperforming, they should be weeded out. This will increase the level of performance across the organization. It also allows the COO to ensure that the right people have opportunities for advancement.
Implementation plans are essentially blueprints for achieving specific goals. They provide a roadmap for the team to follow and avoid pitfalls. It's like giving a speech without preparing a proper implementation plan. You want to deliver an excellent performance, so preparation is vital. By developing an implementation plan, you'll ensure the entire team is on the same page and ready to handle any questions arising during execution.
COOs are visionaries who know what to do and how to make it happen. They are the hands and brains of the organization. Their job involves determining the organization's long-term goals and breaking down the long-term vision into day-to-day tactical decisions. COOs are often the CEO's chief advisor and partner in strategic initiatives.
COOs are responsible for implementing the strategic direction of the company. CEOs often can't decide about the business's strategy, so it's up to the COO to implement it. This is a vital role for a COO, as the CEO needs to trust their COO with the more significant picture issues.
Interviewing a COO
If you're interviewing a COO, you will likely be confronted with resource management and task prioritization questions. This type of question can help gauge a candidate's skills, knowledge of the company, and ability to make decisions and implement solutions. It's important to note that the answers to this question will reveal much about the candidate's personality. Specifically, you should look for answers that reflect confidence and levelheadedness.
A fantastic COO is a chameleon who can adapt to changing needs and circumstances. The role of a COO is constantly evolving, so finding the perfect candidate is crucial. Listed below are essential competencies that you should look for in a COO candidate.
First, consider the type of experience the COO has. A COO should have a proven track record of achieving organizational goals while managing various responsibilities. He or she should also be an excellent multi-tasker. Remember that a COO's primary role is complementing the CEO's role. They typically manage administrative and operational functions and should have at least 15 years of experience. Because a COO will work with the CEO closely, it is crucial to find someone capable of excelling and working well with him.
Once the interview has been completed, it's time to assess the candidate's strengths relative to the position. Examples of strengths include being a problem solver, motivator, positive attitude, and loyalty. Provide examples of your muscles and demonstrate how they can benefit the company. Successful hiring involves matching the right person with the company's culture.
A COO is a senior executive position, which means they report to the CEO and oversee the day-to-day operations of the company. They're responsible for ensuring the business meets its goals while maximizing profits. You'll want someone with strong leadership skills and the right Master's degree.
Finding a COO
It would be best to determine the right fit before considering hiring a COO for your company. This requires deep introspection and self-awareness. In this course, you will learn to evaluate your strengths, weaknesses, and management style, among other things. This will help you determine whether an outsider is the right fit for your company.
You cannot expect a COO to be an expert in every area. That's why hiring someone with a broader range of skills is so beneficial. This will take the pressure off the CEO and allow him to focus on projects more suited to his strengths. This will give him or her time to pursue other ideas that fit his or her personality.
When selecting a COO, you should consider the person's experience, personality, and role. While a COO will need to understand the day-to-day operations of a company, he or she will also need to know how these details affect the overall business strategy. This person will also have strong attention to the party, which will help keep employees focused and on-task. A less detail-oriented person will have a more broad-minded approach to the business but may have trouble with the details.
A COO should have at least 10 to 15 years of experience in the field they wish to lead. Ideally, they should have a passion for the industry in which they plan to work. This will ensure they have the skills and experience to be influential leaders. A solid professional network will also help you access more opportunities. This network will help you develop your skills and get a feel for the work environment. It's also an invaluable way to learn more about the fashion industry.
The role of a COO is an essential part of the company's management team. While the CEO oversees the strategic direction of the business, the COO is responsible for making the business run smoothly. This person can also work with the team to develop strategies for improving productivity and profitability.
What Should a COO Do First? When a new CEO joins your organization, the first thing he or she should do is make the proper introductions and stay in close communication. The COO's role is to execute the CEO's vision and foster a collaborative relationship. Your company's financial condition will determine your ability to hire…